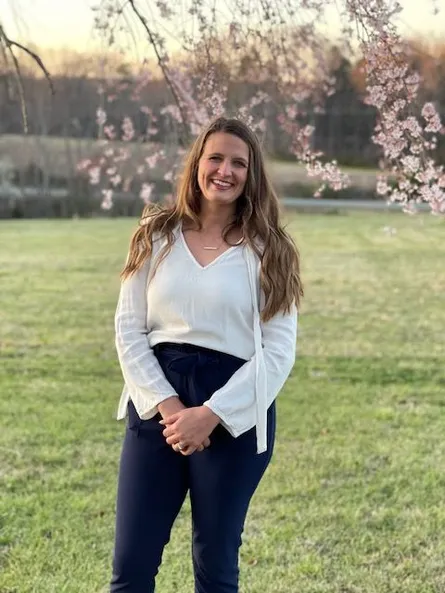 Melissa Griswold is a Licensed Clinical Social Worker (LCSW) who works primarily with adults and young adults and graduated in 2014 with her Bachelors and Master's Degree at Appalachian State University in Social Work with a concentration in Individuals and Families (2016).
While pursuing her Masters of Social Work Degree, Melissa completed her internship with Daymark Recovery Services and worked with varied populations and facilitated group and individual therapy. Upon graduation, was hired to help pioneer a school based therapy program with elementary schools.
Her clinical experience grew vastly while working in roles that included a Site Social Worker with dialysis centers and a therapist serving Assisted Living and Nursing homes in an integrative care environment in the few years of post graduate experience. She has honed her expertise working for the last 2 years while working with a local private mental health institute with adults of all ages utilizing multiple therapy interventions including Cognitive Behavioral Therapy, Dialectical Behavioral Therapy, Motivational Interviewing, Solution Focused Brief Therapy, Mindfulness Training, Attachment Theory, trauma informed care and grief counseling in dynamic capacities to address each client's individual needs.
Melissa is certified in Equine Facilitated Psychotherapy and is an advocate for incorporating animals into therapy when appropriate. She has also pursued training in Integrative Health to help clients better understand link between their physical and mental wellness.
She is also a big believer in better understanding the relationships an individual has in their lives, including most importantly the one with themselves. In this process, she encourages authenticity and emphasizes the value of a healthy therapeutic relationship.
Education:
Bachelor's Degree in Social Work, Appalachian State University - 2014

Master's Degree in Social Work, Appalachian State – 2016


Licenses/Certifications:
Licensed Clinical Social Worker


Additional Training:
Integrative Mental Health Professional 2021
Populations:

Melissa currently works with adults of all ages, 18 and up.
Melissa accepts the following types of payment and health insurance:
Private Payment (cash, check, credit card)

Most Blue Cross Blue Shield Plans
Willow Equine
Melissa is a Licensed Clinical Social Worker (LCSW) who works primarily with adults and young adults. She graduated with her Bachelors and Master's Degree in Social Work at Appalachian State University. She has 20 years of experience working with horses in a number of different capacities and is honored to help others on their healing journey with Equine Assisted Therapy.
She works with individuals ages 18 and up who are facing challenges such as anxiety, depression, grief, and trauma. She is additionally certified as an Integrative Mental Health Professional and Certified Clinical Anxiety Treatment Professional. Melissa loves working with those who are experiencing transition and change in their lives and wanting to better understand themselves in the process. In addition to training in therapeutic frameworks such as Cognitive Behavioral Therapy and Dialectical Behavioral Therapy, Melissa emphasizes the role of healthy relationships and attachment, with others and to yourself.
Melissa owns Inner Atlas Counseling based in the Winston Salem area and also contracts with Certus Psychiatry and Lewisville Family Counseling. She is currently accepting self pay at this time while in pursuit of credentialing with other insurance panels.