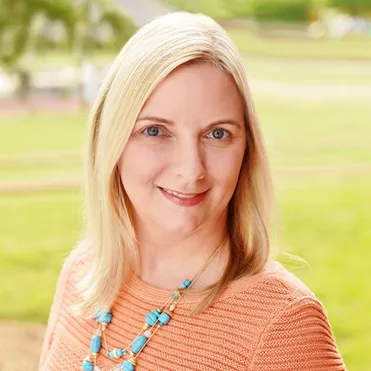 Currently, Jennifer is not taking new clients, but please call us at 336-945-0137 or use the Contact Us form at the bottom of the page to hear about other great options!
Jennifer Locklear is a Licensed Clinical Mental Health Counselor specializing in individual, couples, and family therapy. Jennifer maintains a private practice in Lewisville, North Carolina and founded Lewisville Family Counseling , PLLC in January 2012.
In addition to being a prominent counselor, Jennifer is a Licensed Clinical Mental Health Counselor Supervisor and a Certified Clinical Supervisor and provides clinical supervision to Licensed Clinical Mental Health Counselor Associates and Licensed Clinical Addictions Specialist Associates who are working toward full licensure.
With over 12 years of experience as an individual and family therapist, and as a graduate of the University of North Carolina at Greensboro specializing in Community Counseling and Marriage and Family Counseling, Jennifer is currently serving as a private practitioner working with a broad spectrum of clients including children, adolescents, adults, couples, families, and groups. Among her areas of expertise are cognitive behavioral therapy for the treatment of depression and anxiety; yoga for emotional health, breathing, and meditation; mindfulness; Gottman method couples counseling; substance abuse and addiction; grief counseling; parenting support; and counseling for behavioral issues. Jennifer also has an interest in spirituality and, if a client chooses, can integrate spirituality into the counseling experience.
Jennifer is an interactive counselor who practices from a multitude of perspectives. Her therapeutic approach is to provide support and practical feedback to help clients effectively address personal life challenges. She integrates complementary methodologies and techniques to offer a highly personalized approach tailored to each client. With compassion and understanding, she works with each individual to help them build on their strengths and attain the personal growth they are committed to accomplishing.

In her private life, Jennifer enjoys spending time with her husband and two daughters, taking day trips, reading, dinners with friends, practicing yoga, and the occasional fondue.
Education:
Graduated from Meredith College in May 1998 with a Bachelor of Science in Business Administration and a minor in Psychology

Attended High Point University 1999-2001 as a non-degree student in Psychology

Graduated from the University of North Carolina at Greensboro in December 2004 with a Master of Science (MS) in Community Counseling and an Education Specialist (EdS) in Marriage and Family Counseling
Licenses/Certifications:
National Certified Counselor (NCC), since 1/26/2005

Licensed Clinical Mental Health Counselor (LCMHC), since 12/2/2005

Licensed Clinical Mental Health Counselor Supervisor (LCMHCS), since 8/4/2011

Approved Clinical Supervisor (ACS), since 1/30/2013

Licensed Clinical Addictions Specialist (LCAS), since 2/5/2013

Registered Yoga Teacher (RYT 200), since 2/6/2015

Board Certified Professional Christian Counselor (BCPCC), since 2/12/2015

Certified Clinical Supervisor (CCS), since 3/18/2015

Internationally Certified Clinical Supervisor (ICCS), since 3/18/2015

Certified Counseling Hypnotist (CCH), since 9/27/2015

Master Addiction Counselor (MAC), since 11/30/2016

Board Certified TeleMental Health Provider, Certificate # 894, 9/7/2018
Additional Training:
117+ Hours of Training in Clinical Supervision, 2011-Present

Intensive Training in Cognitive Behavior Therapy, 2011

Cognitive Behavior Therapy Train the Trainer, 2013

Yoga for Behavioral Health, 2013-2014

Gottman Level 1 Training, 2014

Gottman Level 2 Training, 2014

Gottman Level 3 Training, 2015

Gottman Seven Principles Program Educator, 2014

Bringing Baby Home Program Educator, 2015
Professional Activities and Memberships:
American Counseling Association

Licensed Clinical Mental Health Counselor Association of North Carolina

American Association of Christian Counselors
Populations:
Jennifer sees children ages 6 and older, teens, adults, and couples
Jennifer accepts the following types of payment and health insurance:
Private Payment (cash, check, credit card)

Most Blue Cross Blue Shield plans