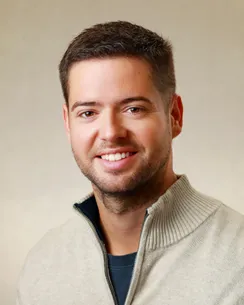 Jake Ottman is a Licensed Clinical Mental Health Counselor Associate (LCMHCA) in North Carolina. Jake completed his Bachelor's degree in Business Administration at the State University of New York at Oswego in 2012. He completed his Master's degree in Counseling at Wake Forest University in 2022.
In addition to counseling, Jake has also worked extensively within the HR field as a Generalist at a mid-sized aviation company and as a Recruiter for a variety of nonprofits. In conjunction with his business work, he served as a hospice volunteer and took a two-year sabbatical to teach in Indonesia through the Peace Corps; opportunities that helped him realize his passion for human services work.
During his graduate training, Jake spent time at a private practice providing family therapy and trauma-informed play therapy to children and adolescents. He interned at a large group practice providing individual therapy to adolescents and adults for anxiety, depression, relationship difficulties, and life transitions. As an intern, Jake also worked with individuals who had obsessive-compulsive disorder, borderline, schizophrenia, and acute suicidality.
Jake's clinical approach is grounded in mindfulness practice and his extended retreat experiences within the Vipassana tradition. He uses a variety of interventions that pull from Mindfulness-Based Stress Reduction (MBSR), Acceptance and Commitment Therapy (ACT), CBT, and Somatic Experiencing. He has a passion for connecting with and serving diverse populations and providing an inviting space for individuals and couples from all walks of life.
Education:
Bachelor's degree in Business Administration, SUNY Oswego (2012)
Master's degree in Clinical Mental Health Counseling, Wake Forest University (2022)
Licenses/Certificates:
Licensed Clinical Mental Health Counselor Associate (2022)
National Certified Counselor (NCC) (2022)
Population:
Jake sees adolescents and adults ages 16 and up as well as couples.
Jake accepts the following types of payment and health insurance:
Private Payment (cash, check, credit card)
Most Blue Cross and Blue Shield Plans